A couple of months ago, Jon Stewart announced that he was stepping down from The Daily Show, a program he rescued from the doldrums of unfulfilled possibility.  Over the course of the following decade-plus, The Daily Show became an institution, a go-to source for news about and analysis of our ailing society.  After much debate, both inside and outside of Comedy Central, 31-year-old Trevor Noah was named Stewart's successor.
This should be the most thrilling and most professionally daunting time of Mr. Noah's life.  After years in the comedy world, he has somehow reached the arguable pinnacle of American humor.
Nope.  Instead, Mr. Noah is dealing with backlash from hypocritical, talentless scolds who don't like jokes that he made in the past.  These people are outraged that Mr. Noah has directed jokes at virtually all ethnic groups and genders.  These people are labeling Mr. Noah, a comedian, an "anti-Semite" and worse because of jokes that he made on Twitter.
Why is this manufactured outrage an outrage in itself?  The first and perhaps least important reason is an emotional one.  These scolds, most of whom have never accomplished anything of meaning in their lives, are being, well, offensive jerks.  Think about the accomplishment of which you are proudest.  Now imagine that thousands of people are trying to ruin that good feeling, all because of the ease with which they can pump out 140 characters before not returning to creative activity.  It's not as though Mr. Noah killed anyone.  On a personal level, why not ease off of the guy?
This faux-outrage is also silly because Mr. Noah is a comedian.  It's his job and his sacred duty to make jokes.  Jokes are inherently offensive to someone, particularly when heard by people who are hell-bent on being offended.  Comedians are the truth-tellers in our society.  They're the ones who help us think about our culture and our world in new and challenging ways.  Comedians simply can't exist if keyboard commandos shut them down because they're offended.
I can hear some of you saying, "Hey, Ken!  There are many comedians who aren't offensive!   Punch up, not down and all of those other rules I'm trying to use to remove human nature from the creative realm!"  Here's an adorable and hilarious ten-year-old comedian named Carly.
Here's the normal response we should have to the very tight routine:
What a precocious young lady!  She's so funny!  Good for her!  I see big things from her in the future!
Okay, now let's put on the They Live insanity glasses:
Carly talked about Spam without even offering a trigger warning.  I get hives on my palms when I think about the animal Holocaust that happens every day in this world.  She even started out by dehumanizing valley girls and appropriating their culture-specific dialect.  She just said "everyone in Hawaii is family!"  What is that supposed to mean?  She must be stopped.
This faux outrage is silly because it's sucking up far too much oxygen in our culture.  I know that it's easy to click "Like" when your Facebook friend points out a racist statement made by a Republican.  News flash: we are all going to die.  We have a finite amount of time on this planet.  Shall we spend it engaged in the pursuit of happiness and performing acts that feed our metaphorical souls or simply spitting and repeating pointless venom.
Trevor Noah's comedy has never caused a single person to go to the hospital.  No joke he has made ever caused tangible harm.  We need to focus on real problems instead of trying to ruin a man or to censor his creativity.
Look at this graph from The Century Foundation: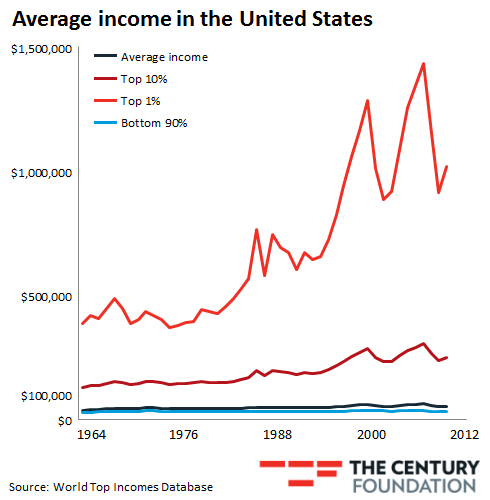 Why don't we spend our time fighting this very real problem that actually does cause tangible harm?  I know, I know, it's easier to retweet bile or to click on a change.org petition to hand the reins of The Daily Show over to a comedian who has never told a joke that has offended anyone.
I suppose one of the things that bothers me the most about such stories is that creative people already face near-constant rejection.  Publishers will only buy so many books.  Comedy clubs can only fit so many comics onstage in one night.  Many of us, even if we're good, will be left behind for reasons primarily out of our control.  Trevor Noah's job is to make people laugh.  He has done so consistently for a long enough period of time that Comedy Central entrusted him with the big chair of a very profitable television program.  A person who is truly part of the brotherhood and sisterhood of creativity is likely to have much more empathy for Mr. Noah.
Unfortunately, being offended has become a cottage industry in our culture.  The people who are tweeting viciousness at Mr. Noah are under the impression that the simple fact that they were offended actually means something.  Taking offense, particularly at a joke from a comedian, is not a badge of honor.  It's an indication that the person is under the impression that their feelings are more important than the unfettered creative expression that is the trademark of Enlightenment ideals.
Why not engage in a simple experiment.  Find a random Tweeter who is angry with Mr. Noah for telling jokes.  Look through their Twitter feed.  Guess what?  Those complainers have said offensive things, too. Whenever I am offended, which is often, I remember the wise words of comedian Stephen Fry: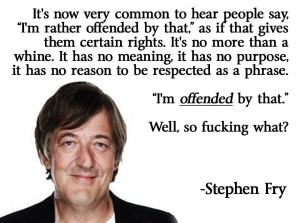 I began this piece by pointing out that Jon Stewart announced a couple months ago that he would depart The Daily Show.  Something else happened a couple months ago.  Gunmen burst into the offices of Charlie Hebdo, a French magazine dedicated to using satire to bring Western society closer to Enlightenment ideals.  Twelve human beings lost their lives because several failures decided that THEY had the right to dictate which jokes were acceptable and which were not.  Creative people are in the ground and rotting away because brainwashed dogmatists wanted to protect the feelings of people who cannot handle ideas that conflict with their own.  For a brief, shining moment, most of us were united under a single banner: Je Suis Charlie.
And now we're back to exerting pressure (in this case social) to police the speech of comedians and ultimately all creativity in the public sphere.  Those who criticize Noah would be ashamed if they had any shame to begin with.