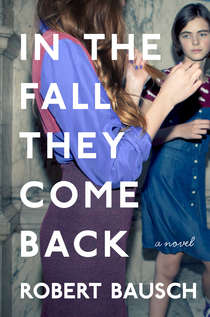 Robert Bausch's IN THE FALL THEY COME BACK and Easing the Reader's Burden
You know what?  I usually begin these essays with a description of the book in question.  The opening of Robert Bausch's In the Fall They Come Back, however, demonstrates one of the principles we can learn from the book, so I'll paste it in right after I tell you where you can buy the book.  (The publisher, your local indie, Amazon.)
Here's the first few paragraphs of the book:
The novel captured my attention immediately because of how well and how quickly Mr. Bausch released exposition, set the tone and, most importantly, hinted toward an interesting and powerful second-half conflict.  Let's break it down piece by piece to see how efficient Mr. Bausch is.
Exposition (What are the basic facts?): 
It's the autumn of 1985.
This is a first-person novel.
The protagonist is just out of grad school.
The protagonist is teaching at a small private school in Virginia.
The protagonist is writing about something that happened long, long ago.
The protagonist is likely destined to be a lawyer.  (And turns out to be a good one in government oversight work.)
He's really smart.
The experience detailed in the novel had a tangible and lasting psychological effect on him.
The protagonist is dating a woman named Annie.
Uh oh.  SOMETHING HAPPENED DURING FALL TERM WITH LESLIE WARREN.  THERE WAS A COMPLAINT.
Powerful Second-Half Conflict:
SERIOUSLY, WHAT HAPPENED WITH LESLIE WARREN?  THERE ARE SO MANY WAYS THIS COULD SHAKE OUT, YOU GUYS.  I MEAN, HE'S A GROWN MAN (THOUGH A YOUNG ONE) AND EVERYONE IN THE SCHOOL IS GOING TO BE SEVERAL YEARS YOUNGER THAN HE IS…I WANT TO KNOW WHAT WILL HAPPEN!
Tone:
Wistfulness.  This took place a long time ago.
Nostalgia.  This is a man looking back on his youth.
Regret.  The protagonist is sad about what happened and is still trying to contextualize the events of that year.
Phew!  Impressive, isn't it?  Mr. Bausch gives us the lay of the land and gives us a reason to keep reading.  What else is there to know about writing?  (Okay, there's a lot more, but you get the point.)
When you begin a work in the way Mr. Bausch did, you fulfill what may be the writer's primary responsibility: to do all of the work so the writer can have all of the fun.  Let's be honest: some works are very difficult to get into.  Maybe the author spends too much time dithering before establishing the narrative.  Maybe he or she begins with a massive exposition dump that delays the establishment of the narrative.  (See a pattern?  You have a problem when you take too long to establish the narrative.)
This is going to be a bit of a strange point, but In the Fall They Come Back is not too different from some of the Young Adult classics.  I know, the protagonist is too old to be considered a young adult, but he teaches in a school and in a lot of ways, he is going through a lot of the same problems as are the 16-18-year-olds.  Isn't this how it works?
The characters in Looking for Alaska are working their way through understanding love, sex, and death.  A Separate Peace (also told by a first-person narrator who is looking back after some time has passed) is all about death and love and coping with how these phenomena can sometimes intersect.  The Outsiders is all about young people trying to figure out life…before it's too late.
In the Fall They Come Back does what all great literature does, including great literature that gets filed in the YA section.  Mr. Bausch treats each character with respect and doesn't hold their youth or inexperience against them.  The protagonist, though the authority figure, is very young and inexperienced.  Leslie Warren is even younger and is…somewhat inexperienced.  And in other ways, she has more power than her teacher.  Teacher and student are, in fact, on the same journey: they are trying to figure out their place in the world and who they wish to be when they grow up.
The novel is a satisfying coming-of-age story informed by the tragedy that so often finds its way into the genre.  Ben Jameson is a compelling character surrounded by other interesting creations and perhaps it's because of my age, but the story he shares with young Leslie is beautiful and heartbreaking.  (It's probably not what you're thinking.)
Writers and readers alike will enjoy the book because of the graceful way in which Mr. Bausch tells the story of Mr. Jameson's sole year of teaching.  The author excels at observing details about each of the characters and communicating them with great economy.