What's The Matter With Carl Sawatski? — Guest Essay by Jon Sindell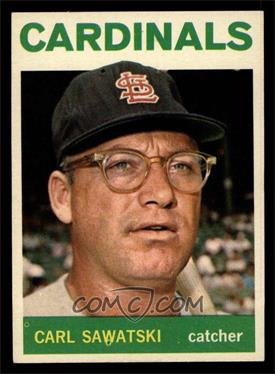 As a kid I loved baseball cards and the men pictured on them. This oriented my attitude towards race in a positive direction. To me, the black players on my cards, such as Mays, Aaron, Brock, and Banks, were not black at all—just as the white ballplayers weren't white. They were all simply Giants, Braves, Cardinals, and Cubs. And I loved all players with all my heart.
That's why I was shocked at age eight, at summer day camp in 1964, when a pair of boys were discussing cards, and little-known backup catcher Carl Sawatski's name came up, and one boy said, with devastating superciliousness: "When I get a Sawatski I throw it in the toilet."
The toilet? This was a major league ballplayer! A demigod! What demi? A god!
That may have been my first realization of just how tough life's grading scale can be. If a major league ballplayer could be thrown in the toilet, what hope did I have? How would I get a 100 on every test, win every game, skateboard better than every other kid? How could I be Mays, and never Sawatski?
It's decades later, and I've decided to probe what Sawatski–ness means.
My research has revealed that in 1963, the season whose stats were reflected on the back of the baseball card destined to be flushed, Carl Sawatski, in the final season of an eleven-year major league career, was a backup catcher for the St. Louis Cardinals of Brock, Gibson, McCarver, Boyer, and Flood, a rising club that would finish second to the Dodgers in a tight pennant race. The next year, the Cards would win the World Series.
In 1963, Carl Sawatski, born in the Appalachian coal town of Shickshinny, Pennsylvania—the town name alone should immortalize Carl—played in 56 games, and must surely have caught the great Bob Gibson. "Swats" had 120 official at-bats that season, and though his average was just .238, he knocked six balls out of the park, for an impressive ratio of 1 home run per 20 at-bats. In 1962, The Sultan Of Sawatski—an epithet I make bold to bestow—launched 13 home runs in just 220 ABs for a stellar ratio of 1:17. In Sawatski's final season, 1963, the notoriously slow catcher, at age thirty-five, stole two bases in two attempts, and The Sporting News called the first of these "the most famous theft since the Brinks' robbery." Jovial and well-liked, Swats kept the Cards loose in the heat of the 1963 pennant race as chief judge of the team's kangaroo court.
But there's more. In 1958, the man also known as "Swish" for the sound of his home run swing, banged out 6 homeruns in just 105 at-bats for the eventual World Champion Milwaukee Braves. Swish was known not only for his prodigious power, but for his prodigious appetite for food as well, making him a proto-Panda. Furthermore, Swish led his minor league in home runs in four of five seasons, was referred to in the minors as a potential Babe Ruth, had a game-winning, ninth-inning grand slam against the Reds on a two-out, 0-and-2 pitch, and had two four-hit games in one major league season.
These achievements, and more fundamentally, the astonishing achievement of simply making the majors and building an eleven-year career, place Carl Sawatski at the apex of the pyramid formed by millions of kids who dreamed in vain of making the majors.
And the kid who condemned Swish to the toilet bowl? What level of excellence, I wonder, has he achieved since? Is he doing the best job ever of running a company? Performing heart surgery like nobody else? Winning the Nobel in physics? I have no idea.
But I know that in my case, I could scarcely begin to catalogue my failures, or my successes falling short of greatness.
So if someone esteems me "The Carl Sawatski Of Essayists," it's an epithet I'll gladly embrace.
Here's to you, Swish!
---
Jon Sindell wrote the story collections The Roadkill Collection and Family Happiness, and the novel The Mighty Roman Baseball Blast. Much of his writing hides in plain sight at jonsindell.com.

 
Image courtesy of COMC.com