Writers are asked many general questions about their craft.

…"What is your overarching philosophy regarding the inherent power of fiction?"…"What IS-character-to you?"…"What is the position of place in your work?"…

These are great and important questions, but I'm really curious about the little things.  In the "Hey, Why'd You Do That" series, I ask accomplished writers about some of the very small choices they made during the process of composition.
Katherine Riegel is a friendly woman and a good teacher.  She's also a co-editor at Sweet: A Literary Confection.  Most of all, however, Ms. Riegel is a writer who loves creating poetry and creative nonfiction.
In November of 2014, Ms. Riegel published a powerful piece of creative nonfiction at Brevity.  Go ahead; check out "Run Towards Each Other."  Then come back here and see why the author did what she did.
1) You begin "Run Towards Each Other" with the following two sentences:
"It is Thanksgiving, again. My smile is a weapon cutting off access to my grief-treasure."
So…"grief-treasure" isn't a real word. I even copied it into Microsoft Word to make sure. Then I looked on dictionary.com. Then I realized you must have made it up for some reason.
How did you decide to combine those two specific words? Why did you include the hyphen?
KR: Such an interesting question! I deliberately wanted to link those words in order to make sure the metaphor was clear. I imagined the smile/weapon protecting treasure—something precious, something coveted, something collected over time. So a stranger might see only the weapon, the defense—the smile. But the treasure being protected is actually grief. So it was layers of metaphor: smile=weapon, grief=treasure. In asking the reader to engage with complex metaphor, I didn't want language itself to make understanding any more difficult. So I…bent language to make it do what I wanted. And I think the comparison of grief to treasure in particular is so unexpected, so out of the norm in terms of the ways we usually talk about grief, that I didn't want the reader to be able to interpret it any other way.
2) The third paragraph is all one sentence. And there are en-dashes that split the sentence into three sections in addition to commas and everything else that makes up a sentence.
Why did you decide to combine all of those clauses? How did you make sure that the reader would know what you meant to say? What was the effect you hoped to create?
KR: Microsoft Word wasn't happy with that sentence. (Though actually the 3rd paragraph is 2 two sentences, which itself is problematic because the 2nd "sentence" is technically two fragments separated by a dash.) In the first sentence of that paragraph, the dashes did what dashes are generally supposed to do, in that, if you took out the material inside the dash, the grammatical structure of the sentence, and its essential meaning, would be unaffected. Oh, and incidentally those were em dashes in my document; I think the formatting of the site turned them into en dashes. I wanted to put some description of my own smile into the piece, but I knew if I didn't limit it that I could go on and on in the most unflattering ways about my own smile. This made it essential to keep the image short, tucked within a sentence. I also deliberately left out the "and" before "my new loves" because I wanted the three items in the list to be equal. Somehow adding "and" would make it feel like the last one, the "new loves," was either more or less important than the other two. I intended the order to be more chronological than by importance.
I think also that this particular paragraph, reflecting my (the narrator's) self after my mother's death, is particularly fragmented. All the clauses, as you say, are both linked and separate, connected only tenuously through punctuation. The speaker, too, is just barely held together, and still doesn't quite believe how or why she is. As for the 2nd sentence, where I get to write "me—me," I confess I gave myself permission to do that because of some lines/line breaks in a Sharon Olds poem. It's called "His Stillness" and the sentence reads like this:
At the
end of his life his life began
to wake in me.
 She deliberately ended a line with a throwaway word—"the"—in order to get a line which begins with "end," ends with "began," and has "his life" repeated in the middle. I wasn't breaking my mini-essay into lines (though I did when I first wrote it—shhh, don't tell) but there was something really important about repeating that word "me." The narrator doesn't feel worthy of the support she's gotten, so she must repeated the word "me" to persuade herself she matters, even as that words is followed by "insignificant."
3) So, "toward" and "towards" are interchangeable, but "towards" has that extra Zzzzzzzzzzzz sound at the end.  "Toward" has a nice, crisp consonanty ending.
Why did you use "towards?"
KR:  I have to confess this may be just dialect. I grew up in Illinois with parents from DC and Pennsylvania who went to school in Vermont. When I take "accent quizzes," it nearly always gets my accent wrong because of that. (I say "ca-ra-mel," for example, not "car-mel.") I guess, when I think about it, "towards" sounds more together-y to me. People are running towards each other—everyone is doing the action. A person would run toward a house, because the house wouldn't be doing the action. Or maybe I'm completely full of it, and I'm a teacher, so I can come up with an answer even if I have to make it up. 🙂  
4) I'm pretty sure Grammar Girl would tell you that you didn't need that comma in the sentence, "It is Thanksgiving, again."
How come you put that comma there?
RM: Oh, yes. Very important, and very deliberate. I wanted to emphasize "again." It is inevitable, it keeps coming around even when you don't want it to. Putting the comma there was to try to show the dread, to make the reader feel just how much the narrator didn't want it to be Thanksgiving—again. Oh boy. Here we go.

5) And here's the penultimate sentence:
"In the barn I will pull carrots out of my pockets and hold them flat on my palms."
"In the barn" is a dependent clause that begins a sentence.  All of those nerds who complain about grammar stuff might say that you shoulda put a comma after "In the barn."What made you leave the comma out?
KR: Really interesting punctuation questions! I think language has a music to it, a rhythm. Grammar and punctuation rules are in place to help with clarity, but we all know many of them are arbitrary and some are based on the rules of Latin, which early English grammarians decided was the only "proper" language and so must be imitated. In this case, it's clear what's happening, and I heard the sentence in a particular way in my head. It wasn't interrupted by a pause after "barn." I'm one of those people who hears a voice very clearly in my head when I read; I don't read my work aloud much during revision because it's redundant. I heard this sentence as a whole, the image words like fence posts, regularly spaced: barn, carrots, pockets, flat, palms. 
It's odd to see how often I bend/break grammar and punctuation rules, when I emphasize clarity in both those areas as a teacher. I suppose I'm more concerned with syntax and its possibilities than with absolute rules. I want writing to be precise, in order to get across nuance and subtlety. That kind of precision requires a writer to make considered choices that sometimes break rules.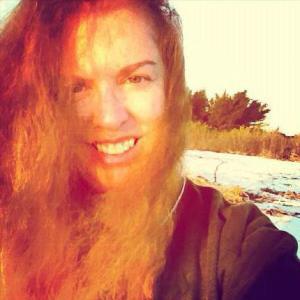 Katherine Riegel is the author of two books of poetry, What the Mouth Was Made For and Castaway. Her poems and essays have appeared in journals including Brevity, Crazyhorse, and The Rumpus. She is co-founder and poetry editor of Sweet: A Literary Confection, and teaches at the University of South Florida. Visit her at www.katherineriegel.com.
2014, Brevity, Katherine Riegel, Sweet: A Literary Confection, Why'd You Do That?