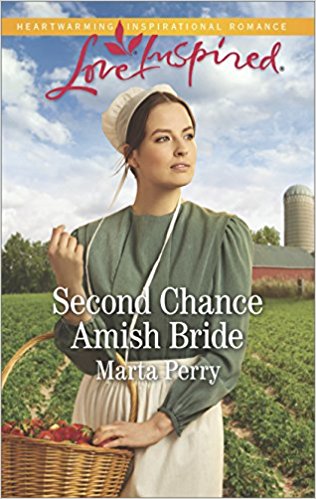 Marta Perry's SECOND CHANCE AMISH BRIDE and Making the Most of Restrictions
Caleb is not experiencing one of the high points of his life.  His estranged wife died, leaving him to care for two kids.  He broke his leg in an accident and cannot properly tend to his dairy farm.  And worst of all, his wife's sister has arrived from her own Amish enclave to help out in the household.  Caleb isn't a big fan of Jessie; perhaps she reminds him of Alice, the wife who abandoned the family before returning when she was close to death.
Jessie did her best to reach out to her sister, but failed.  And she has a secret of her own: she had a huge crush on Caleb before Alice, the prettier sister, captured his attention.  Spending time around him is painful, even all these years later.  (Purchase the book from the publisher, Kobo, Barnes and Noble, or Amazon.  Here's her Facebook page and web site.)
As you can see, Second Chance Amish Bride is imbued with the kind of conflict that befits the Amish inspirational/romance-type genre.  (Books can be so hard to classify…and sometimes the classifications really aren't necessary!)
Part of my discussion of this book is influenced by a talk that Wendy S. Marcus gave about her writing process and career.  I loved that she had a slightly different perspective because she came to writing a little later in life-certainly later than I did-and that she was playing in a slightly different sandbox.  Most of the time, writers are told, "Do whatever is best for the work!"  Can you write a 600-page manuscript?  "Sure, whatever is best for the work!"  Can you depict graphic violence?  "As long as such a description is best for the work!"
Well, things are a little different for writers who produce books for companies such as Harlequin.  That company is a machine!  They produce dozens of books a month to fit the needs of their many imprints.  Harlequin Dare…Harlequin Desire…Harlequin Intrigue…each of these lines has a different formula and focus.
Instead of writing 100% according to the dictates of one's muse, these authors must put a little more time and effort into following the rules set out for the line for which they are writing.  Ms. Perry's book appears in the Love Inspired line.  Here are what the editors list as requirements:
Strong contemporary romances with a Christian worldview and wholesome values.

Relationships that emphasize emotional intimacy rather than sexual desire.

Each story should focus on an emotional and satisfying romance, with a sustained conflict.

Mandatory faith element that is integral to story and shows rather than tells, avoiding didactic, preachy tone or doctrinal language.

Family and community are strong features of this line

Stories can be set in small town USA or close knit communities in urban settings.

Hero and heroine should meet early in book, preferably by end of chapter one.

No drugs or alcohol consumption, gambling, or profanity by Christian characters.

No graphic violence or pre-marital sex within the course of the story.

Word count of 55,000 to 60,000 words
Phew!  Some of these are pretty interesting restrictions!  And if you've ever written a novel, you know it can be very difficult to bring the story in at a certain word count.  You have to outline the story well enough that you know you'll come in at the right range, but you can't outline too much, or else you may have trouble keeping the novel interesting, both for you and the reader.  And how do you write a compelling story without allowing characters to use drugs, consume alcohol, or use profanity?  Of course it is possible.  Ms. Perry is only one of many writers who can complete the task.
The funny thing is that these restrictions can also be a huge help for a writer.  The traditional big, flashy story elements are very effective, but they're also very easy.  It might be…interesting to write an Amish romance that features a knife fight between an Amish man and his horse, but the book will likely be more meaningful (and satisfy the usual needs of the genre's fans) if the dilemmas the characters face are more personal.
Ms. Perry employs secrets to her advantage in the book.  (Told from the third-person limited POV, by the way.)  The audience learns early on that Jessie had a crush on Caleb all those years ago, but Caleb does not know.  At the same time, Caleb makes it clear to the reader that he doesn't like Jessie, partially because she is a reminder of the woman who crushed his heart like an empty beer can.  These two states of mind create tension.  It's not the same kind of tension as a ticking time bomb or a character who doesn't know that he or she took a Fentanyl-laced shot of heroin.  Such a character-based tension forces a writer to compensate by boosting other facets of the story.  In this case, Ms. Perry keeps the story interesting by immersing the reader in the Amish world and by allowing each character to express their emotional response to the family's situation.
Ms. Perry also subverts the guidelines in an interesting way.  While the community is as loving and as helpful as you would expect to see in an Amish romance, there's one unpleasant person.  One day, Jessie is at church when she hears someone around her accuse "Caleb's sister-in-law" of wanting to use Caleb in some way.  That's the only reason Jessie is in town!  Guess what: this unnecessary nastiness came from the bishop's wife.  So even though the community is solid and the book's background in faith is on a firm foundation, Ms. Perry ensures that the characters are realistic.  Some people are unpleasant and can think uncharitable things, even bishops' wives.  Allowing such a character to violate their own stated moral code adds complexity and drama to a work.
Second Chance Amish Bride is a satisfying example of the Amish inspirational novel.  I found myself feeling a great deal of empathy for Jessie and the children (and Caleb, too…) because of their fresh pain and the relatable way they stumbled through their search for happiness.
BONUS: 
Here is a Skype interview that Ms. Perry did for BookTrib.  She discusses her process and how ideas develop.  (And she seems so kind and charming!)