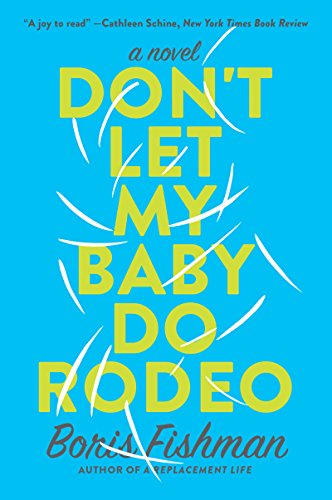 Boris Fishman's DON'T LET MY BABY DO RODEO: The Author Responds to My GWS QuickCraft!
Friends, my GWS QuickCraft posts are a way for me to bring attention to more works and more authors.  (Sadly, more people are likely to see these bits of writing craft advice than the regular essays I write, but that's the way things are now…)
In a recent post, I wrote about Boris Fishman's most recent novel, a critically praised book called Don't Let My Baby Do Rodeo.  (Purchase the book from your local indie store, Barnes & Noble, Kobo, or Amazon.)
Here's what I posted on Facebook and Twitter:
GWS QuickCraft: Word choices from Boris Fishman's DON'T LET MY BABY DO RODEO. #amwriting pic.twitter.com/tJ69Ku32F8

— Great Writers Steal (@GreatWritersSte) July 13, 2017
I was curious about the reasoning behind one of the choices Mr. Fishman made on his crucial first page.  Well, Mr. Fishman responded to me and explained why he chose the word he did.  Even better, he was happy to share his thought process with all of us.  (Check out his Facebook author page.)
So why did Mr. Fishman plop that prefix on "humid" instead of choosing one of the words that would easily do the job?
"Arid" would not work there, I think — when the humidity briefly lets up in New Jersey, it's drier, but I wouldn't say "arid," a word that calls up the desert. "Dry" works a little better, but it also doesn't quite capture the feeling, I think. I think the most salient aspect of the experience is the sense of reprieve from an onslaught. It's conditioned by the onslaught. So you're not dry so much as briefly non-humid. At least that was my mind process, I think.
What an interesting explanation!  Remember: we can make any choice we like, so long as the choice achieves the desired effect.