What Can We Steal From Writers' Web Sites?
For better and worse, the Internet is here to stay.  (Yes, I borrowed that sentence from 1995.)  It's still possible for writers to avoid the Information Superhighway completely, of course.  Unless I'm mistaken, Cormac McCarthy is still 100% old school.  (And aren't we jealous?)
For the rest of us, however, it's probably a good idea to have some kind of digital presence.  Why?
Readers want to be able to find your work!  A web site makes this easy.
Having a web site and connected social media accounts allow you to "network" and make friends with other writers.
Many publishers appreciate writers who communicate with readers
Having a web site lets you post whatever you like, whenever you like.
Through the course of writing way too many essays for Great Writers Steal, I've come into contact with a wide variety of writer sites.  Each of them are different because each of them are designed to express the identity of a different writer.  You need to decide what your Internet presence will look like, just as you call all the shots when it comes to your short stories and poems and plays.
Web sites offer near-infinite opportunities for customization, even if you're not an expert in HTML or Flash.  (I'm certainly not.)  You need to decide for yourself what your site will look like and what it will do, but here are some basic types of sites that I have seen and how they can spread the gospel of you.
The Basic Informational Site
This kind of site is a simple placeholder for information.  You don't do much with the site, but your readers learn about you and your work.
I put together a site like this for the great Lee K. Abbott (with his consent, of course).  I popped all the information I could find into a simple WordPress site and now all of the Lee K. Abbott fans out there have a one-stop Lee K. shop.  Why is this kind of site perfect for him?  While he could do much more Internet stuff if he wanted to, I don't believe he feels like it.  And that's fine.  The site cost zero dollars to produce and will be around forever.
What will you find on the basic informational site?  Take a look:

Nothing fancy or pretentious, but plenty of meaning, just like Mr. Abbott.
The Basic Creative Outlet and Marketing Opportunity
This kind of web site is a little more complicated than the first.  You get all of the basic information, but you also get to play a little.  An example of this kind of web page is the official site of Leigh Allison Wilson.  I helped Ms. Wilson put the site together, but she maintains it and does whatever she likes.  And isn't that the point?  Take a look: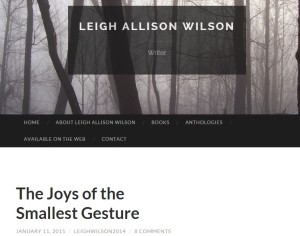 A list of Ms. Wilson's books?  Check.  A list of her short stories and where you can find them?  Check.  Links to work of hers that is available on the 'Net?  Check.
Ms. Wilson is also kind enough to add blog posts or short shorts every so often, creating an incentive for visitors to drop by multiple times.  Periodic updates may also inform your readers about what is happening in your life or your work.
The Immersive Reader Experience
This kind of web site is a PR person's dream.  A writer such as Brendan DuBois devotes some of his valuable time to chronicling his available work.  He also makes it as easy as possible for you to find what he's done and even to communicate with him.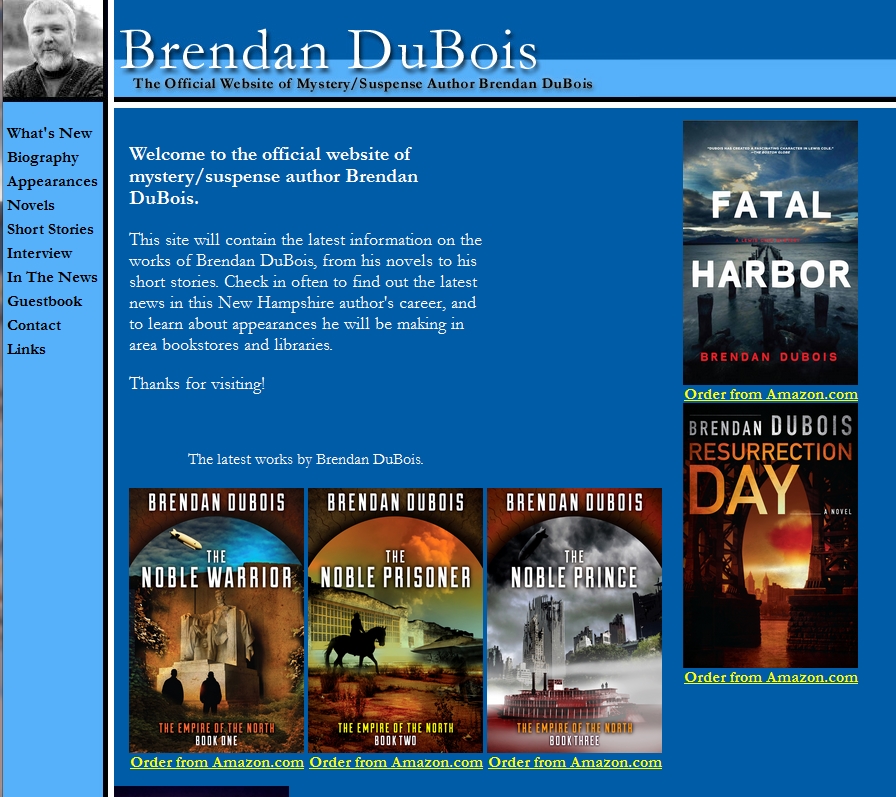 Social media is also part of the immersive reader experience.  Novelist Ellen Hopkins has more than 92,000 Facebook friends!  The page allows her to tell fans about her new work and her readings and even allows her to interact with them in relatively time-efficient ways.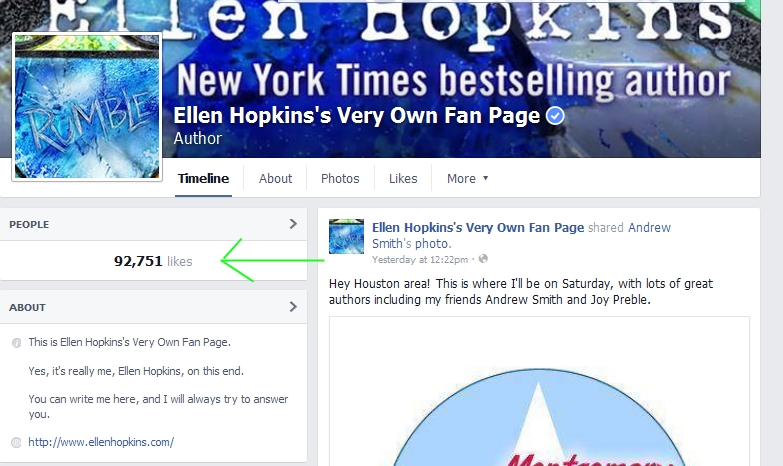 The Creative Endeavor
For better or worse, Great Writers Steal is this kind of writer site.  I offer people what I hope is a valuable resource (for free!).  In exchange, I hope people enjoy what I do and that they might be more likely to check out my short stories and poems and so on.
Another example of a writer who offers this kind of site is F.J. Contreras.  His blog, Mexican Driving, offers you cultural criticism and his thoughts on literature.  Another of his efforts, Hades United, compiles a lot of his work that wasn't published elsewhere.
Why create a site like this?  I suppose the reason must be personal.  I truly love discussing literature with the people who are nice enough to visit my site and I love that I have a creative outlet for efforts that may not fit in anywhere else.  Unfortunately, my creativity has always lacked a laserbeam focus; I have a million things I want to say and do and that means that I'm not going to be able to say and do them all.  But a site like Great Writers Steal allows me to get closer to my ultimate goals.  (I think.)