We all love Joyce Carol Oates for her beautiful and engaging work, for her steadfast advocacy of other writers, for her dedication to helping all of those who dare to turn thoughts into literature.  Ms. Oates is also active on Twitter, yet another way in which she remains of prime relevance in our community.
Ms. Oates recently hit upon something that I think about a lot, even though it doesn't apply to me in the least.  As Shakespeare said through Cassio, our reputations are the immortal parts of ourselves and "what remains is bestial."  One reason that most of us bother to write at all is that we wish to ensure that some part of us may remain for many future generations.  We hope that our stories and ideas may resonate hundreds of years from now, as Shakespeare's do.  Ms. Oates's novels and stories will survive as long as humans crave stories (which is forever), but most of us will see our influence wane until it flickers and snuffs itself for lack of attention.  (Out, out, brief candle!)
Ms. Oates reminded us of our temporary nature in a witty and Oatesian way, saying:
"the words of the dead are modified in the guts of the living"-is Auden correct? Not the words of the dead but the reputations of the dead

— Joyce Carol Oates (@JoyceCarolOates) May 22, 2016
Ms. Oates name-checked some writers who have lost relevance in the canon over the past few decades:
@JoyceCarolOates With Howard Nemerov, Delmore Schwartz, James Dickey, Alan Tate, Robert Penn Warren, Ransom has faded from anthologies.

— Joyce Carol Oates (@JoyceCarolOates) May 22, 2016
Whatever the reasons, my heart went out to these writers, each of whom had the same dreams and goals and joys that are shared by every writer.  They were also lucky enough to shape the community, for good and ill, through the generations of students who looked to them for wisdom and advice in the craft.
Other writers may be in the process of overwriting what they did during the twentieth century-such is the march of time-but let's give a little attention to these writers, people who still have something to teach us.
To my shame, I had not previously read Howard Nemerov, but I am glad that Ms. Oates's tweet did its job.  Mr. Nemerov's work, a nice sample of which can be found at the Poetry Foundation web site, is graceful and accessible in a way that demands a wider audience.  A great deal of contemporary poetry, I am sad to say, seems contrived to confuse.  Any time I have tried to introduce such work to young adults, they go away scratching their heads and checking their phones.  When you show them a work such as Randall Jarrell's "The Death of the Ball Turret Gunner," they go away thinking about the horrific nature of the ball turret gunner's death and checking their phones.
Mr. Nemerov enjoyed working in forms and playing with meter and rhyme.  (Another strike against him, it seems…)  Judging from the sample I have enjoyed, Mr. Nemerov's poems are relatable in the same way as those of Billy Collins: they often deal with parenting, aging and nature.  These are subjects to which your non-writer (and perhaps non-reader) friends can relate, and Mr. Nemerov writes about them in a manner that these same friends can understand.
I suppose this is the first lesson we can take from Mr. Nemerov's work.  People love playing with language.  They love contemplating where their life has gone and where it has been.  Instead of cloaking our own profound thoughts in deliberately obtuse language, perhaps we should be more open to using meter and rhyme in a way that is accessible to those who have not yet earned their own MFA.
Let's take a closer look at an extract from a poem called "To David, About His Education."
What do we notice?  Mr. Nemerov employs, in my view, a somewhat loose iambic pentameter in the poem.  Unlike a more rigid example ("shall I comPARE thee TO a SUMmer's DAY?"), the stressed and unstressed syllables are harder to identify.  I wonder about the effect of this looser meter; are these lines more "accessible" to those who don't yet realize they like poetry? 
You'll also notice, for good and ill, that Mr. Nemerov's use of meter forces him into making word choices.  Look at that last line.  Is "their" really necessary for us to understand what the poet means?  I don't believe so.  Without that additional word, however, the meter breaks down.  Where Mr. Nemerov is playful with the meter in much of the rest of the poem, he wisely ends it with a fairly solid line of blank verse:
and TEACHes small CHILdren to DO this IN their TURN.
One of Mr. Nemerov's more famous poems is "The War in the Air."  Here's the first stanza: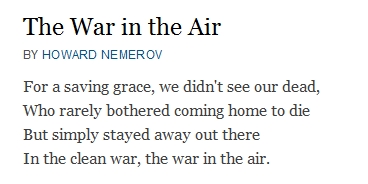 It bears mentioning that Mr. Nemerov served in the Royal Canadian Air Force and the U. S. Army Air Forces during World War II.  Perhaps the first thing we notice is now Mr. Nemerov is playing with meter and rhyme.  The first two lines of each stanza are cast in that "loose" iambic pentameter and the last two lines of each stanza rhyme.
Rhyme and meter are somewhat out of fashion today, but they will always be included in the poet's toolbox.  Why do I love that this poem follows some rules?  The rhyme and meter contribute to the feeling of the poem.  We can all agree that Mr. Nemerov saw some terrible sights during his time as a pilot and anyone who has spoken with a veteran knows that they took and still take what they did very seriously.  The structure imposed by rhyme and meter, it seems to me, facilitate the kind of solemn reflection appropriate to the subject of the work.
Like most writers, Mr. Nemerov reflected upon his avocation.  Check out the beginning of his poem, "Writing":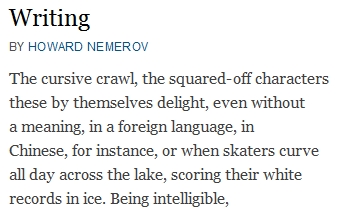 The first thing we notice is that the poet is adhering more strongly to the meter than was the case in the first two poems.  Isn't that image a beautiful one?  Mr. Nemerov reminds us that everything about language is beautiful, including the very pen strokes we use to communicate our thoughts. 
If nothing else, Mr. Nemerov deserves to be remembered for the decades of devotion that he gave to the writing community.  Not only was he the Poet Laureate, empowered to spread the gospel of poetry far and wide, but he nurtured generations of poets as a teacher.  So thank you, Ms. Oates, for reminding us of a writer whose name deserves to be on our tongues, if not for all time, at least a little longer.