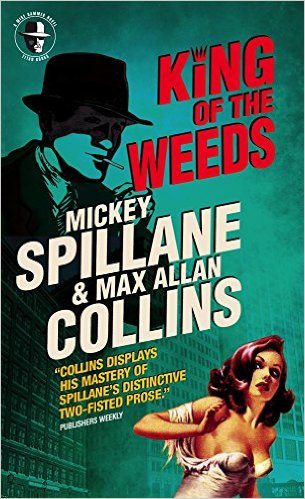 Close your eyes, if you will, and imagine a time when reading prose was the primary way that people consumed stories.  (Then open your eyes or else you can't read this essay.)  There was no Law & Order, no NCIS, no NCIS: Dubuque, no NCIS: Portland (Maine).  How did people satisfy their needs when they were jonesing for a mystery?
They read mystery books and stories!  I know…American culture will never be the same as it was in the good old days in terms of respect for writers and prose, but there are still few pleasures as powerful as cracking open a paperback and sipping a hard-boiled mystery story like a glass of Johnny Walker neat.
In case you weren't aware, Mickey Spillane is one of the best-selling authors of all time.  He is most famous for the detective he created, Mike Hammer, a private dick who isn't afraid to use some violence to take some scum off the streets.  Mr. Spillane died in 2006 and left a number of manuscripts that he wanted completed by Max Allan Collins, a friend and similarly world-class crime novelist.  (I love his Quarry series.  Check it out.)  One of these unfinished manuscripts was that of King of the Weeds, a novel whose events take place after those of Black Alley.  Hard Case Crime/Titan Books is the publisher; they are one of my favorites because they produce great books at a great price and they are keeping the tradition of hard-boiled crime fiction alive.
Yes.  I understand that writers such as Mr. Collins and Mr. Spillane will never be considered among the great literary lions.  While both authors likely developed back problems from all of the laurels heaped upon them, hard-boiled crime thrillers are not the kind of books that many "literary" people want to glorify.  I find this quite sad.  Look how much we can learn from the first page of King of the Weeds: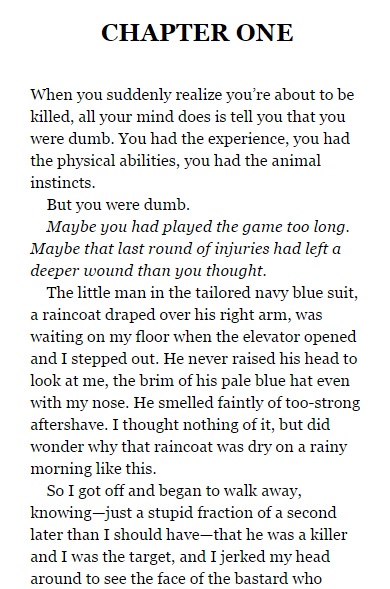 Let's tally up all of the basic things that Mr. Spillane and Mr. Collins do in these first few paragraphs:
Establish life-or-death stakes for the narrator
Employ a little second-person to grab the reader before the first person takes effect
Depict the hit man that will obviously figure into the narrative
Remind the reader that Hammer is older than he was and perhaps a step slower, which ratchets up the threat
Begin the novel in medias res with an attempted murder of the protagonist.
You want to read on, don't you?  Of course you do.  I invite you to compare the first page of King of the Weeds to that of the average literary book.  Does every book need to begin with an attempted murder?  Of course not.  But we all do well to introduce big stakes and to do so very early.
Mr. Spillane and Mr. Collins do a lot of great subtle things in this first page.  I've marked up the image: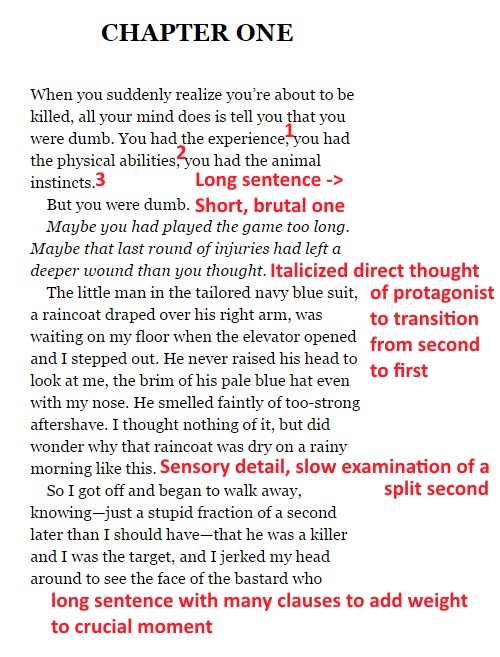 Mr. Spillane and Mr. Collins pull of some beautiful tricks with their prose here.  In that first paragraph, they employ the rule of three, establishing a rhythm that carries the reader away-
only to punch you in the gut with that four-word second sentence.  The prose also reflects the rhythm of what Hammer is going through at the moment.  His day is about to begin…everything is calm…everything is normal-
gunshot.
Mr. Spillane and Mr. Collins know that the second person "you" bit is a great way to open the book, but they also know that they can't stay in the second person too long without confusing the reader.  How do they ride the line, earning the punch of those first two paragraphs while gently easing the reader into the first person that rules the rest of the book?  They use that italicized direct thought from Hammer as an adapter.  Isn't that clever?
I'm reminded of the opening of The Hunt for Red October.  No one involved wanted the Russians in the film to speak Russian through the whole film.  On the other hand, it always seems silly when people Sam Neill and Sean Connery speak Russian.  We all know that neither of those guys speak Russian.  But then we wonder why the Russians are speaking English with Scottish inflection.  It's a lose-lose all around.  So the writer and director of The Hunt for Red October both acknowledge and work around the dilemma:
In that one quick moment, they say: LOOK.  I KNOW YOU DON'T SPEAK RUSSIAN AND THAT YOU PROBABLY DON'T LIKE SUBTITLES.  HERE'S THE DEAL.  THE FIRST FEW MINUTES WERE IN RUSSIAN, BUT NOW?  WE'RE SWITCHING.  YOU'RE GOING TO GO WITH IT.  OKAY?  COOL.
Mr. Spillane and Mr. Collins use that italicized thought from Hammer in the same way to transition: WEREN'T THOSE FIRST TWO PARAGRAPHS COOL?  WE KNOW, THANKS.  THEY WOULDN'T HAVE BEEN AS COOL WITHOUT THE "YOU."  BUT HERE'S THE DEAL. THE REST OF THE BOOK IS IN FIRST PERSON FROM HAMMER'S PERSPECTIVE, SO LET THAT SINK IN AS YOU READ WHAT WE ARE POINTING OUT IS HAMMER'S FIRST BIT OF EXPLICIT NARRATION.
The fourth paragraph starts to take a little time.  Mr. Spillane and Mr. Collins have Hammer walk into an early morning ambush that takes roughly two seconds in real time.  That's not going to work in a novel.  Instead, the authors slow things down, dropping a lot of detail about what the hit man is wearing, where Hammer is, what the hit man smells like.  The previous prose lets us know we are reading the account of an attack, and the following paragraphs allow us to savor what is happening.  (And to pick up clues.  It's a mystery.)  The same effect is created in the last sentence here; Mr. Spillane and Mr. Collins give us a fairly long sentence studded with short clauses that create a bumpy, claustrophobic effect that is wholly appropriate to a character being shot.
I acknowledge that I'm often pessimistic and hyperbolic about the things that bother me in the writing community.  A great many of my friends enjoy hard-boiled fiction of the kind for which Mr. Spillane and Mr. Collins are justifiably famous.  I suppose I make this respectful appeal: if you haven't read these fun and rip-roaring books before, don't deprive yourself for long.
Hard Case Crime, Max Allan Collins, Mickey Spillane, Titan Books