Title of Work and its Form: "WE'D LOVE YOUR DAUGHTER AS THE NEW FACE OF OUR INFANT CLOTHING LINE," poem
Author: Andrew Brogdon
Date of Work: 2010
Where the Work Can Be Found: The poem appears in Issue 10.4 of DIAGRAM, a great online literary journal.  Read Mr. Brogdon's poem here.
Bonus: Mr. Brogdon happens to be a brilliant computer programmer-type guy in addition to being a great poet.  As a gift to the writing community, he created Submission Mojo, a free resource that allows you to track where you send your work.  Check it out!  Here is an article Christopher Higgs wrote about one of Mr. Brogdon's past ventures, a web site that created poetry out of Internet search results.
Element of Craft We're Stealing: Playfulness

Discussion:
This twenty-one-line poem consists of twenty-one statements from people who are seemingly surrounding a girl who is being made up in preparation for a photo shoot.  The make-up artists make comments about the girl's cuteness, the hairstylist asks the girl to shift her head, the photographer makes adjustments to the lens.  Mr. Brogdon's shrewdest turn comes in the last line:
Face the lights sweetheart look at your mother
A member of the crew (perhaps the photographer) asks the young lady to turn her head in her mother's direction.  Mr. Brogdon hadn't named the mother before this point; does the mother matter to all of the people who are buzzing around?  Does the girl?  One could also believe that the last line is spoken by the mother…a woman who is only given voice in the very last line of the poem.
Mr. Brogdon often reminds me of one of my favorite contemporary poets: Denise Duhamel.  His stuff is fun and he enjoys referring to popular culture, but he also demonstrates a passion for the music that words can make.  After you read the first few lines of "WE'D LOVE YOUR DAUGHTER…,"  you discover that each statement is related by the transition between lines.  The sentence is not quite over when it cuts, and we never really see the beginning of the subsequent statement.
I was reminded of that old "Miss Suzie" rhyme…thing that little kids do in order to allow themselves to swear without getting in trouble:
The device seems similar, right?  What is the effect?  Mr. Brogdon creates a breathless atmosphere around the young girl.  We read about her in the title and now there are tons of people around her who are telling her that she's pretty and primping her hair and dolloping makeup on her face.
The best thing about children is that they don't have the same responsibilities and prejudices that adults have.  The world hasn't yet sucked the joy out of their hearts.  Barenaked Ladies made an album for children called Snacktime; one of the songs is based on the classic joke:
Why was Six afraid of Seven?  Because Seven ate Nine.
BNL turned the joke into a song and was able to retain the playfulness and joy that is felt the first time a kid hears the joke:
Ladies and gentlemen, we all know that words have power.  Martin Luther King, Jr., for example, used soaring oratory to help convince stragglers that we should all treat each other with respect.  Some kinds of words have more power than others.  Verbs are typically some high-octane words.  And why not?  They're all about action!  Now, Mr. Brogdon doesn't begin each line with a verb, but each line DOES begin with a word that has a lot of power.  See?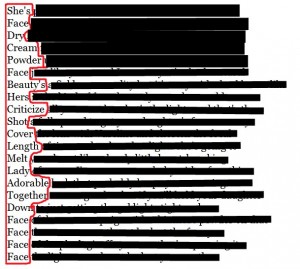 These lines have additional punch because Mr. Brogdon begins them with significant words.  Now compare this poem to the work of a far inferior poet.  Let's look at the first words in the lines of one of my poems.  I wrote this piece for my favorite Ohio State athletics site, Eleven Warriors.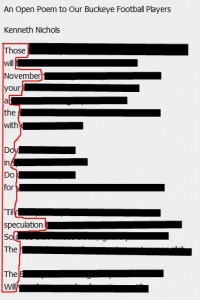 Isn't it easy to see which poem has more power and why?  If I have any excuse, it's that my poem is in blank verse, so I had a little less of a choice as to how my lines would begin…but the point stands.
What Should We Steal?
Lift a device used by children.  Kids LOVE playing with language; why not put yourself into the same mindset?
Begin your lines with striking words.  Even though your readers will think of your poem in terms of sentences on some level, the first words of each line still leave a lasting impression.