Title of Work and its Form: "A Portion of Your Loveliness," short story
Author: Amy Bloom
Date of Work: 2012
Where the Work Can Be Found:  The story was originally published in the Winter 2012 issue of Narrative Magazine.  You can read the story for free, and you really should do so.
Bonuses: Did you know that Ms. Bloom was a psychotherapist before she became a full-time literary lioness?  She discusses the way she shapes character in an interview with The Guardian.  We all love NPR.  Here's an audio interview Ms. Bloom did for All Things Considered.
Element of Craft We're Stealing: Humor

Discussion:
Ms. Bloom's first-person narrator has some problems.  Her marriage to Carl crumbled in the wake of a miscarriage and their eleven-year-old daughter, Abby, spends her free time playing her favorite game: Holocaust.  Abby wears striped pajamas and gives her American Girl doll a new look that would fit in at Bergen-Belsen.  "Living with Abby," the narrator says, "is like having the History Channel on all day."  Mother and daughter are invited to Thanksgiving dinner with Carl and his girlfriend, Lynn.  There's a Turkey Day revelation: Lynn is pregnant.  In short order, Carl asks to speed up the divorce process.  The narrator weeps and grieves so deeply that she vomits for the first time since she was pregnant.  Abby climbs into bed to console her mother.  Somehow, the family, now cleaved in two, has come to catharsis.  Best of all for the narrator, Abby stops playing her favorite game.
Ms. Bloom's story confronts some very serious topics: a psychologically disturbed young person, the pain of divorce, the lasting trauma of miscarriage, the Holocaust…  It would be easy for the piece to be a downer or to be the kind of story that you feel you should read for artistic value alone.  In Ms. Bloom's capable hands, the story is leavened by the innate sense of humor that exists in the narrator and her world.  Here's an example of how Ms. Bloom wrings humor out of sadness: Carl, the ex-husband, is having Thanksgiving at his house (with his new girlfriend).  The narrator offers to bring dessert, but Carl immediately returns an e-mail telling her not to bother.  The narrator can't help herself.  She asks, "No Sacher torte?"  She's prodding her ex-husband for living a life that is decreasingly Jewish, a particularly complicated issue in light of their daughter's obsession.  The narrator receives no response to the prodding:
He doesn't write back.  My mother would have said, Kill him with kindness, darling, and it is what I want to do.  It takes me four hours to make the torte.
The joke is born out of the character and the situation.  By including that last sentence, Ms. Bloom inspires the mental image of the narrator spending an afternoon spite baking.  (Everything is better when you do it out of spite!)
Ms. Bloom also derives humor out of Abby's Holocaust obsession.  Thanksgiving dinner starts out awkward:
The four of us stared at each other over carrot sticks and hummus because of course Abby won't play Xbox or Wii because there is no Super-Ravensbrück Tournament or Mario Brothers in Birkenau…
Some might say, I suppose, that it's somewhat unpleasant for parents to think these kinds of things about their children.  The fact remains that it's realistic.
Most of the scenes in the story are very short and are strictly controlled by the narrator.  Only in the climax do we get an extended dialogue scene.  This makes total sense, of course.  The narrator has collapsed into bed under the weight of all of the stress and sadness she is feeling.  Her daughter climbs into bed beside her and they share a dialogue that lasts for more than a page.   During moments like these, we don't get much interiority from the narrator; instead, we are given a front-row seat to an intimate moment between mother and daughter.  The scene has a big impact because it is surrounded by narration that zips around through time much more quickly.
Appendix: In case you didn't know what a Sacher torte is, here's a picture.  If you're inspired to bake one for yourself, feel free to send me a piece.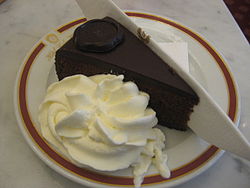 What Should We Steal?
Leaven your story with appropriate humor.  Humor can be found in any situation, especially if the right characters are involved.  Comic relief can make a depressing story more realistic and more entertaining.
Transfer control to your characters when they deserve it.  All of the exposition you deliver and the characterization you provide lead to an important moment (hopefully).  Let that moment breathe.