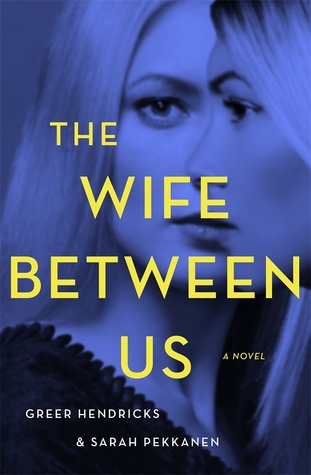 Greer Hendricks and Sarah Pekkanen's THE WIFE BETWEEN US and Evoking Empathy for Both the Ex-Wife and Her Replacement
Nellie is a beautiful young teacher who spends her days caring for little children.  Pretty soon, she'll be caring for her own little ones.  The rich and handsome Richard swept her off her feet.  And what a great guy he is!  Sure, the money is nice, but Richard make sure that she wants for nothing.  There's only one problem: the ex-wife.
Vanessa is not taking the divorce well.  She lives with her Aunt Charlotte and works at a clothing store…the same kind of clothing store at which she once shopped.  Her old friends sometimes show up to find her in such a lowly state.  And Vanessa won't stop trying to contact her replacement.
See how the authors set up a fun, sexy, thriller?  Here's one of the trailers the publisher released to make you want to buy the book:
It occurs to me that this writing craft essay may be a little difficult, as The Wife Between Us is a thriller, and I don't want to give away any of the fun twists.  In fact, I wouldn't even be hurt if you put this piece aside until you read the book.  (But do remember to come back!)  So I'm staying away from spoilers.
Ms. Hendricks and Ms. Pekkanen did something that reminded me of why I love James Bond novels so much: they immersed me in the world of globe-trotting rich people who lead pampered, privileged lives.  Part of the fun of a Bond novel is pretending that you will someday be that part of society that swears by Fancypants brand shirts and summers in Fancypants, France and simply can't go into public without their Fancypants cologne.  Part of the appeal of this kind of thriller is the way the reader gets to play in the world of rich New Yorkers.  The authors include a number of brand names and devote a great deal of page space to describing Nellie's fine clothes and the wine she drinks and the furnishings in Richard's swank apartment and the tequila she drinks…
In a way, thrillers such as this are aspirational.  Obviously, we'd rather be Nellie or Richard than Vanessa, but a thriller inherently invites the reader to test his or her mettle against the protagonist's situation.  I am reminded of The Firm in this respect.  Like Mitch McDeere, Nellie is not rich.  Through their respective circumstances, both characters fall into the world of money and power and fine things.  Then they discover that their benefactors are not everything they seemed to be…
How would you handle such a transition in your life?  How would you handle your significant other's crazy ex?  Where should you place your trust?  In your heart or in your eyes?  Ms. Hendricks and Ms. Pekkanen put you in the narrator's place in order to extract more emotion and to make the suspense seem real.  I suppose that this gravitational pull starts in the title.  The Wife Between Us.  "Us.  You and I.  She is between us.  What are we going to do about it?"
Our stories are nations and our characters should be full citizens.  It may take a while, but the authors treat each of the characters–the wives, the husband, the extended family–as though they really belong.  (Okay, maybe we can allow the occasional doorman or barista to be purely functional characters.)  Ms. Hendricks and Ms. Pekkanen make sure that Nellie's roommate, Samantha, is a well-drawn character and seems like a fun person to be around.  They didn't need to do this; Samantha's FUNCTION in the story is to serve as a sounding board and to facilitate the contrast between Nellie's new life and old.  Aunt Charlotte is Vanessa's protector and hint of stability, that's her FUNCTION.  But she's also a very cool older woman; the reader gets to know her through the course of the book.
The Wife Between Us is a fun and sexy thriller in the tradition of classics such as Basic Instinct, Fatal Attraction, Sliver, and A Perfect Murder.  Ms. Hendricks and Ms. Pekkanen upset the reader's expectations throughout the novel in ways that I am happy to have you discover for yourself.  Perhaps the greatest trick the authors turn is to evoke sympathy and empathy for both Nellie and Vanessa and the other women in the book.  (For husband Richard?  That's in the eye of the beholder.)