Ken Levine, Great Literary Citizen, Teacher and Co-Writer of the Frasier Episode "Room Service": Character Is Everything
If you have laughed while watching TV sometime in the course of the past forty years, you likely know the work of Ken Levine and his writing partner David Isaacs.  Cheers.  Frasier.  Wings.  M*A*S*H.  For the love of Springfield, Mr. Levine created the Capital City Goofball!
Mr. Levine has also spent a great deal of time teaching other writers.  For the past decade, he has been dispensing daily stories and truth on his blog, By Ken Levine.  His podcast Hollywood & Levine, as of this writing, is about to premiere and will, no doubt, be a must-listen.
While you should spend a week going through the blog, I'll point out one of the most helpful things Mr. Levine does.  Mr. Levine and Mr. Isaacs (along with Robin Schiff) created the sitcom ALMOST PERFECT.  The show ran for two seasons on CBS and starred the luminous Nancy Travis, who played the executive producer of a cop show.  From time to time, Mr. Levine uploads an episode of ALMOST PERFECT to his YouTube channel and explains why he did what he did.  How often do we have the chance to hear a writer describe his process?
By all means, enjoy this episode of ALMOST PERFECT (ignore the unfortunate thumbnail):
And then read Mr. Levine's comments on the creation of the episode.
Now that you are firmly acquainted with Mr. Levine's work and his generosity as a literary citizen, I would like to discuss what Mr. Levine says is one of his best scripts.
I remember watching Cheers when I was too young to understand all of the jokes and I enjoyed Frasier in part because I was old enough to understand all of those jokes.  I remember catching this episode when it first ran because it featured Bebe Neuwirth, on whom I had a fascinating crush.  Lilith Sternin-Crane is, according to Carla and the gang, an "ice queen," but the actress who portrays her is incredibly talented and beautiful.
"Room Service" is the fifteenth episode of season five of Frasier.  As of this writing, it is available for streaming on Netflix and can be seen in many other outlets.  The episode was directed by David Lee, himself a sitcom deity (The Jeffersons, Cheers, Wings, Frasier).
The episode clocks in at 22:40.
Scene 1: INT. RADIO STATION (0:00 – 4:00) – Frasier and Roz are doing their call-in show.  Roz encounters Lilith in the hall; the latter frightens Frasier when he sees her through the studio glass.
EXPOSITION: Frederick is doing well.  Lilith's husband left her for a man.  Frasier invites Lilith to tag along that evening, when he and Niles attend a fancy party.
Scene 2: "Strange Interlude" INT. CAFE NERVOSA  (4:00 – 6:47) -Frasier and Niles drinking coffee.  The former is worried; whenever Lilith is around, he finds her vulnerability alluring.  The latter is vulnerable because his divorce is a difficult one.  Frasier tells Niles about Lilith's problems.
EXPOSITION: Niles is having narcoleptic fits because of the stress of divorcing Maris.
Scene 3: INT. FRASIER'S APARTMENT (6:47 – 10:40)-  Martin and Daphne are not pleased to learn Lilith is on the way.  When Lilith arrives, she's in a sheer dress that…interests Frasier a great deal.
EXPOSITION: Niles agrees to help Frasier resist Lilith's charms.
I love this bit.  Scene 3 ends with Frasier proclaiming his strong resolve.  "Let her bat her eyes all she wants to.  Let her push her breasts up to Canada!  I won't budge!"

The next image is Lilith's bare leg wrapped in a bedsheet.  I love the nonverbal response to Frasier's line.  Of course, there is a twist; it turns out Lilith has slept with Niles, not Frasier.  Big problem!  Big laughs!

Commercial break!
Scene 4: "Long Night's Journey into Day" INT. HOTEL ROOM – (10:40 – 22:40) – Lilith and Niles wake up and realize what they've done.
Knock knock…it's just room service.  And he needs to come back with some ketchup.  (Of course he does!)
Knock knock…it's Frasier.  Niles must hide in the bathroom along with the incriminating room service cart.  Frasier tries to seduce Lilith.
The toilet flushes after Niles has a narcoleptic episode and depresses the handle.
Frasier changes into a robe in hopes of getting something started with Lilith.
Knock knock!  The room service guy brings ketchup and needs the bill.  Room service guy knows Lilith is up to something!  Niles knows he and Lilith are up to something!  Lilith knows she and Niles are up to something!  FRASIER DOES NOT KNOW.  (This is the nature of comedy.)
Still in the bathroom, Niles knocks over some room service dishes because of the strongly-established temporary narcolepsy.
Frasier discovers what has happened!  His ex-wife slept with his brother!  He leaves in shock and disbelief!  This is the climax of the story!  It occurs at 16:20 out of 22:40.  Look how perfectly Mr. Levine and Mr. Isaacs fit this episode to Freytag's Pyramid!  They built the action to a hilarious fever pitch and now have a few minutes to establish the new status quo and to allow the characters to reflect.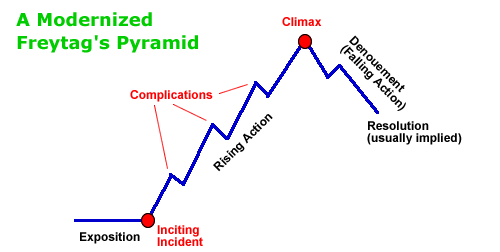 Knock knock!  It's Frasier.  "I'm in a robe, you jackass!"
The falling action takes control.  Lilith explains that she was lonely and needed validation.  The characters are doing character work and hashing out their serious issues.  There's still tension and fun, but it's a different kind of fun than during the sequence in which Niles is trying to hide from Frasier.
Lilith and Niles are both happy; they helped each other recover from the emasculation and e…gynulation? they each felt after their spouses left.
Frasier and Niles are not okay after this experience.  But, as Frasier says, they "will be."
Knock knock!  Room service guy is back and has a hilarious reaction to TWO men in the room.  This is the perfect button to the story.  It recalls the broad humor of the climax and also offers an outsider's view on what is happening in the hotel room.
Then there's the credit sequence; Lilith eats her breakfast alone, at peace and with great aplumb.  And while sitting on the toilet.
EXPOSITION: Niles walked Lilith to her door and…you know.  Niles told Frasier he was taking Lilith home.  Room service guy is in play; he'll be knocking on the door.  Frasier discovers what happened.  Hilarity ensues.  Niles is able to talk to Maris without falling asleep.
Phew!  Okay.  Now that I've broken down the episode for you, why does this piece work so very well.
First and foremost, Mr. Levine and Mr. Isaacs ensure that the action comes out of the characters.  Okay, yes.  They had the benefit of working with Frasier and Lilith, who had been around for fifteen years and were already embedded into our hearts and minds.  But that doesn't make their use of character any less awesome.  The writers establish very early what each character wants.
Frasier wants to help his ex-wife…and to sleep with her.
Niles wants to get over his ex-wife and the narcolepsy she caused.
Lilith wants to feel womanly after her husband left her for a man.
The whole farce of the hotel room scene (that occupies half of the running time of the whole episode) works because we understand what each character wants.
Each character also has internal struggle.
Frasier desperately wants to resist his attraction to Lilith and even enlists Niles's help.  But when he sees Lilith in the dress…
Niles desperately wants to finalize his divorce and move on.  He and Maris had a very cold relationship.  (Note the bit about Niles falling asleep on the ice cube tray.)
Lilith desperately wants to seduce Frasier to affirm her womanhood.  She doesn't want Frasier to hate her for sleeping with Niles.
If your characters and their motivations and needs are clear, you can do virtually anything you want in your story. 
And look how Mr. Levine and Mr. Isaacs build the humor in the climactic scene.  (A scene which would not be out of place in any great stage comedy.)  The tension and humor build because of the knocks.
BASE CONDITION: Niles and Lilith slept together.
Knock 1: It's room service.  He brought breakfast.
Knock 2: It's Frasier!  Now there are two characters who are piercing this bubble of privacy.
Knock 3: Room service guy brings the ketchup.  He needs Lilith to open the door, revealing she has a different guy in the room.  Funny!  Tension!
Knock 4: Frasier returns to the bubble, realizing he's not wearing his clothes.  He is forced to deal with the emotions and situation…this is comedy!  (And drama.)
Knock 5: Room service guy is back…now there are two men in the room.
The writers wring comedy and drama out of the situation by introducing an outside character (who can serve as audience surrogate) and by the repetition, in this case, the knocks at the door.
For another beautiful script that makes use of repetition, check out "Lucy Does a TV Commercial," written by Jess Oppenheimer, Madelyn Pugh and Bob Carroll.
Mr. Levine admits that he is grateful to be part of the world-class sitcom writers who came of age in the seventies and eighties.  When you think of The Mary Tyler Moore Show, M*A*S*H, Taxi…any of those great shows, you notice the marriage of humor and heart.  The secret, of course, is that the humor comes out of the heart.
So even if you don't visit my site again, make Mr. Levine's hilarious and informative blog a place you visit from time to time.  He's a great literary citizen…and he loves baseball.  What more do you want?